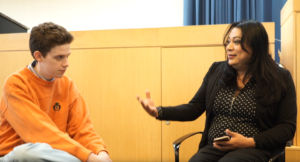 On April 5th, Jennicet Gutiérrez, an immigrant rights and transgender rights activist, spoke  at Princeton University about injustice of immigrant detention centers, organizing for social change, and a 2015 White House protest that briefly propelled her into the national spotlight.
Gutiérrez spoke to her Princeton audience about difficulties she faced as an undocumented student and teenager in the United States. She crossed the border from her native Mexico at fifteen and joined family already settled in California. Through high school, she faced constant threat of deportation, and wasn't able to access resources available to her non-immigrant and documented peers. As a graduating senior, Gutiérrez knew that paying for college would be too great of a burden for her family, and her undocumented status would prohibit her from applying for federal financial aid.
After high school, Gutiérrez, who is openly transgender herself, joined "Familia: Trans Queer Liberation Movement," an organization that advocates for the rights of Latinx members in the LGBTQ community. There, she began fighting against detention of LGBTQ immigrants. Gutiérrez explained that immigrant detention centers are especially dangerous for transgender women; among myriad reasons, she cites their vulnerability to sexual assault at the hands of guards, as well as of detained men with whom they are often improperly housed. She also cites unavailability of healthcare services, such as essential medications and hormone therapy. Gutiérrez said she found these problems to be poorly understood by the broader populace. Thus, when Familia sought to send a speaker to protest a 2015 LGBT Pride Month event at the White House, Gutiérrez eagerly volunteered.
Gutiérrez wanted to elevate the struggles of detained trans women to the national stage, even though doing so as an undocumented immigrant comes with great risk. Yet drawing inspiration from civil rights leaders like Sylvia Rivera and Marsha P. Johnson, she interrupted President Obama's speech at the White House event.
"President Obama, release all LGBTQ immigrants from detention!" she shouted. Shocked at first, he shook his head and declared "You're in my house!" and "Shame on you!" Meanwhile, the crowd chanted his name and booed Gutiérrez. Undaunted, she continued her protests. Finally the President responded: "You can either stay and be quiet or we'll have to take you out." Gutiérrez did not stop until she was escorted out. Her action made national news.
Gutiérrez told her Princeton audience that after the media picked up her story, commentators on the political left and right—and even LGBTQ activists in attendance at the event—branded her as a "heckler" and criticized her protest. Nonetheless, she had raised awareness about the issue. Less than a week after the event, thirty-five Members of Congress published an open letter calling for investigation into conditions LGBTQ immigrants face in detention centers. Since, some detention centers have designated housing for trans people who are detained. Yet that far from solves the problem in its entirety.
I followed up with Gutiérrez after her talk. She still works with Familia as a community organizer and fights for change, even as she is still finalizing her citizenship status. She spoke further about the public reaction to her 2015 interruption, and put it in context of the national political moment—only days later, the US Supreme Court would decide Obergefell v. Hodges, a ruling that would legalize same-sex marriage.
"A lot of the people in attendance were supposedly activists and from organizations pushing a progressive agenda of inclusion of equality," she explained.  The pending Supreme Court case may have brought those people excitement and hope, but those feelings did not extend to all.
"Where is the progress for the [trans] people who have been murdered? For the people who don't have access to health care and education?"
She says that the bi-partisan nature of American politics limits potential solutions to inequalities. For that reason, Gutiérrez says she is wary of how debates on immigration, and injustice, more broadly, are framed.
"Once you start challenging the system of power, people realize that Democrats don't have [in mind] the best interests of people who live at the margins. When we look at representatives from both sides of the aisle, they're always talking about 'yes [detention centers] are a problem, so let's improve them, let's reform them, but let's still sustain them.' For people like me, there's nothing you can do other than to shut them down and release detainees and provide basic services for people to get back on their feet—not just to survive, but to thrive."
In a break from those parameters of debate, Gutiérrez advocates for abolition of detention centers and prisons. Knowing injustices and instances of violence that transgender women and people of color face, she has limited faith in existing structures to do anything but harm. However this notion of abolition is often ignored in mainstream debate, she says, and the current justice system—albeit with some improvements—is accepted as an untouchable norm. Indeed, Gutiérrez says she generally avoids endorsing Democratic candidates for this reason.
"We need to move in a direction of imagining ourselves in this system without prisons and without detention centers. And I think that's really missing in the Democratic party," she says. "We can have a specific facility for undocumented trans women, we can train guards to understand the community, but at the end it's not really getting to the root of the problem—that the bigger picture of capitalism and white supremacy benefits from the pain and suffering of the transgender community and people of color."
I asked her what students at Princeton and young people in positions of privilege can do to promote the kind of binary-breaking social change she proposes. She offers a two-fold response. First, elevate voices of people who generally do not have access to spaces like Princeton. She says that bringing often-overlooked messages of people like herself onto campus is an excellent step. Second, think boldly; avoid constraining ideas to fit the confines of mainstream debate. As she puts it: "Don't limit your vision of what justice really is."